An Emerging Drone!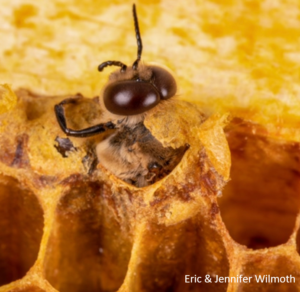 Thank you Eric and Jennifer Wilmoth for this beautiful photo of a drone emerging from it's cell!
A drone is a male honeybee.
They do not have stingers and do not do any work in the colony.
Their purpose in life is to mate with a queen but only a few will be successful!
A Queen Bee!
Thank you Chris Lockert for taking this beautiful photo of one of her queen bees!  Isn't she amazing!

The queen bee is the most important member of the hive! She is normally much longer than the worker bees. She rarely stings except if she encounters other queen bees emerging from the colony at the same time.
She can lay up to 2000 eggs or more in a SINGLE day!
Found a SWARM? Here's what to do!
Honeybee swarms are common in the springtime.
 Swarms are typically not agressive but please exercise caution and leave the swarm alone until it moves along or until a beekeeper can assist with removal.
In most cases, we can remove the swarm.
Please check our list of beekeepers for one nearest you.
You'll find their contact information and  general location on our SWARM REMOVAL page. 
Don't Forget to Register your Colonies!
This article was originally posted by Betterbee. Photo of bees flying near a swarm courtesy of Beekeeping Like a Girl blog You walk into your bathroom one afternoon and hear an unfamiliar buzzing noise. Is it the fluorescent lighting fixture? Is there a fly in the...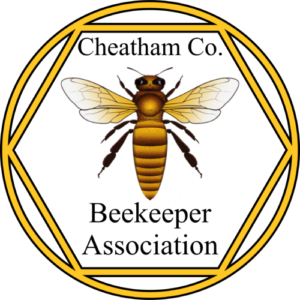 Interested in Beekeeping?
Join us at a monthly meeting!
All are welcome!
We meet the 2nd Monday of the month.
First Baptist Church of Ashland City
603 N. Main Street
Ashland City, TN 37015
Time: 6pm-8pm
For more information:
cheathambeekeepers@gmail.com