UT Master Beekeeping Program
May 26

-

May 27

$125.00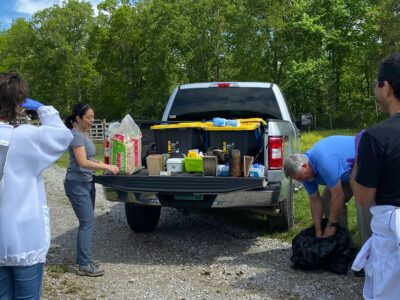 Date: May 26-27, 2022
Time: 8:30am – 5:00pm ET
Location: Blount County Operations Center, 1219 McArthur Road, Maryville, TN 37804
The Tennessee Master Beekeeping Program is a school for all beekeepers, regardless of operation size or experience level. The goal is to improve the knowledge of TN beekeepers about beekeeping, and the program is dedicated to beekeepers in Tennessee. It started as a pilot in 1991 for 55 people from 3 counties to more than 3,000 participants, representing 85+ TN counties. Participants spend 1.5 days in the classroom, learning about and discussion topics such as bee biology, pollination, getting started, safety, disease, nutrition, recordkeeping, and inspections; as well as a half day in a local apiary where they are taught hands-on skills from basics such as how to light a smoker (and keep it lit) to how to properly manage parasitic mites (currently, the most challenging threat in beekeeping). The knowledge gained, and tools developed through these efforts are passed on to beekeepers and producers through a collaborative Extension program, involving agents and specialists.
Basic level is an entry-level and continuing education program and requires no previous training to enroll or no mandatory "years of beekeeping". Participants' acquisition of skills and knowledge be will assessed through participation in discussions and quizzes. Individuals should be familiar with basic knowledge and skills necessary for a beginning beekeeper. Topics to covered in the Basic Level:
• Sources of beekeeping information for the "beeginner"
• The colony & common mistakes – basic bee biology and behavior
• Getting started – education, equipment, tools, locations, etc.
• Acquiring bees – packages, swarms, queens
• Hive inspections and recordkeeping
• Queen events and issues
• Pests & diseases – detection, prevention, management
• Varroa mites
• Forage and nutrition
• Beekeeper regulatory responsibilities
*(Apiary visit – weather permitting. Bring your own protective gear including veil; a limited amount of borrowable protective gear will be available for participants who do not yet have bees.)
This is a 16-20 hour beekeeping class and meets the requirements for TAEP grant funding.
The cost per person is $125 and is NON-REFUNDABLE and NON-TRANSFERABLE. Please see details below for dates, locations and contact information. Online registration only – no walk-in registrations will be accepted.
Registration Deadline: one week before class starts.
Class will be capped at 35 participants & may be cancelled if a minimum of 15 participants is not met.
Blount County – Maryville, TN
John Wilson (865-982-6430) & Jennifer Tsuruda – Organizers
Online Registration Only